I'm not a fan of sex segregation, so the prospect of a shower, a hen party, and waiting in the back of the church with crying female relatives were things I wanted to avoid in the process of getting married. As it was, it all worked out great, and I probably could've been less of a jerk about some things, but the end result was indeed that I never ended up alone in a room full of women.
I really didn't want to have a bridal shower - for one thing my lady of honor lived in NYC and I didn't expect her to do anything but show up the day before the wedding, for another I didn't want to spend an afternoon being given stuff labeled "Bride" and getting less-than-stellar advice from female relatives (I think my mother-in-law is as allergic to girly-girls as I am so we get along pretty well in that regard), and finally this wedding involved two people and I didn't want to have a wedding-related party without Will. However, my mom insisted, and Will told me that I needed to grow up, stop being a dick, accept her generosity, and have a shower, so I did.
It was actually a really awesome afternoon, and my mom did a great job (she also did everything, which I feel guilty about looking back). We invited relatives, inlaws, and friends of both genders, and used the afternoon as a way for everyone to get to know each other before the wedding weekend. It felt like a family party with a short bout of gift-giving, and my mom got to show off her taste in interior decorating and cooking. People talked and ate, there was
nothing labeled bride or groom
, and there were no baby pictures or lingerie.
Will asked for glassware, which we got in abundance, and we also got a new toaster oven and a camping lantern. I had specifically asked for tools for shower gifts, so my dad got me a cordless drill. KICKASS.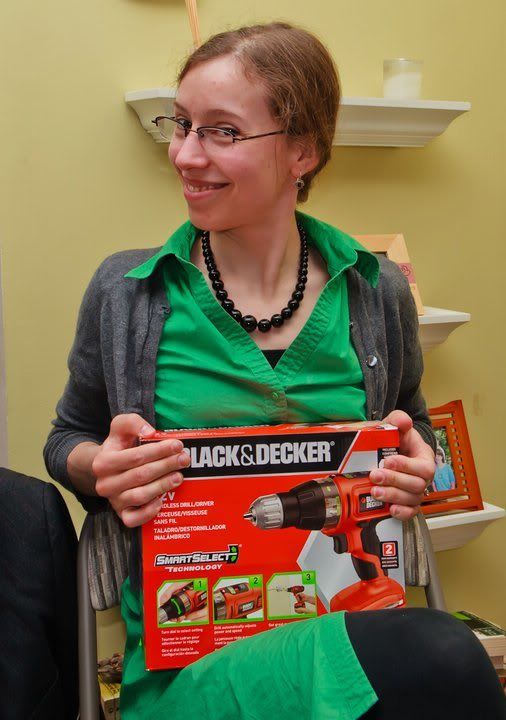 I really liked our pre-wedding casual family gathering, which makes me wonder what actual bridal showers are like, and what their purpose is.
My brother (who did the photography for our wedding) also photographed the shower, and his pictures turned out great.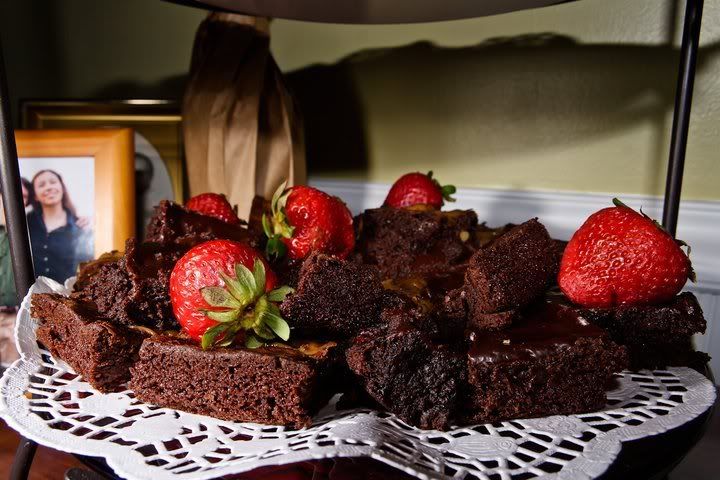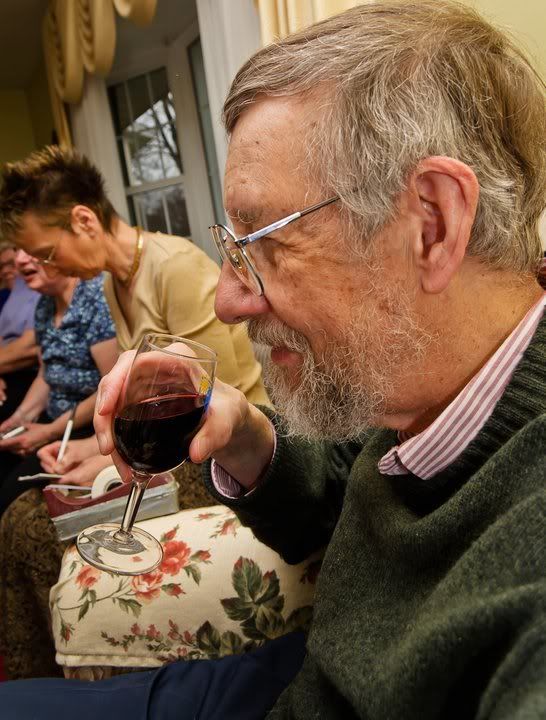 ----
As with the shower we didn't particularly want to have separate bachelor(ette) parties - for one thing we have almost no friends that aren't equally friends of both of ours, and for another Will is not the strip club type and I'm not the spa-and-facial type (I think that's what women do at hen parties?). Instead we decided to have a Pre-Marital Dance Party, which would help us celebrate with the many friends we couldn't invite to our very small wedding and fill the bachelor(ette) party niche.
We held the party at the house we would be moving into after we got married - my best man already lived there and the rest of the residents were fine with us having a party. About 30 people came and we have a pretty sweet time eating, drinking, dancing, and hanging out till 2 am. It was a lot of fun, and like so many thing with our wedding, another good excuse to throw a party for our friends and just have fun hanging out.
And with that we got ready for the final two weeks of pre-wedding preparation. Loose ends were taken care of, bags were packed, and on the Wednesday evening of our wedding we drove up to West Virginia to get all in order.
The next post will be a photo-stuffed splendor of the actual wedding!